Latin House
This summer, the restaurant offers an exclusive and latin house live atmosphere.
Each evening is an invitation to danse, with a special dinner and the wines of Domaines Paul Mas.
July 20 – 2017 – A Fuego Lento
August 3 – 2017 – La Milone
August 17 – 2017 – Balaio
August 31 – 2017 – La Milone
The Artists
La Milone :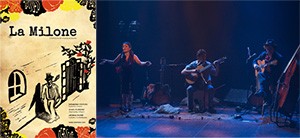 An invitation to a musical and gastronomic journey!
La Milone travels across Latin America and the Caribbean to share those sounds to Europe. "Rich colors, without navigating complex between tradition and modernity" A music both festive and intimate, written and improvised, listen and dance! !